This is one episode of a wider series. To instead start at episode one, please click here.
So our journey progresses from the second tier in Sweden to the top tier in Norway, and I have a feeling that this will be a good move. This is a bumper read, but hopefully a rewarding one. There's even a crucial # that needs to go viral on social media. It's too important to fail.
I step off the plane at Oslo Airport and take a deep breath of that fresh Norwegian air. There's a beaming smile across my face. It could be the three Amundsen beers I had on the flight, or it could be that I am now managing a club free from crippling debt, who have almost quadrupled my salary to an incredible £4,200 a week.
This means I can at least find a place to rent somewhere in the capital, which is only 25 minutes drive away from Lillestrøm. I quite fancy the sound of that.
Which reminds me. I said goodbye to our beloved (but old and terrible) blue Saab back in Varberg, so what gas guzzling mean machine can I get in exchange for my hard earned Krone, now I'm here in the land of the beautiful Fjords?
The car rental agent isn't impressed that I said "gas guzzling," not only because it's a bizarre expression not commonly used since the 80s, but also because Norway are absolutely mad about eco friendly electric cars! Almost 60% of new cars sold in Norway in this current age are fully electric. Did you know that? I did, but only because I Googled it about 30 seconds ago. I pay my money and make my choice.
I look around Oslo and end up settling for a lovely apartment in the middle of town. It has a car parking space, WiFi, and crucially; no receptionist named Monika who confused me with Alan Partridge banter that I thought she didn't understand. It even has a TV!
Now I can settle in and have a think about what Norway might offer me. That's even before I start talking about our iconic new club.
As well as the aforementioned Amundsen ale, I am a big fan of food. I know Norway must have something incredible in store for me. My new apartment is across the street from a hygge little restaurant with a waitress named Sofia and a manager named Jakob, who welcome me with open arms (figuratively, we've just met) when I pop in for some dinner. What kind of delights would they have in store?
While waiting for my incredible meal to arrive, I start looking for other interesting facts about where I'll be spending hopefully a decent bit of time. I read that famous novelist Roald Dahl had Norwegian parents, and that in turn has given me license to publish the picture below. Which I may do at regular occasions during our time here.
I sleep like a content child with a full stomach in my new surroundings and drift off, thinking of how my first day in charge will be.
I rise early to a beeping phone. It's the chairman, Mr Christian Johansen, or 'ChriJo' as I already like to call him, much to his displeasure, telling me about how many staff I have at my disposal.
It's basically none.
I get in the e-Golf and head to the Åråsen Stadion for my first meeting and training session with the potential Lillestrøm Legends, and boy, what a sight it is.
First things first, I need to go and find some staff. The stadium is beautifully presented, but the place is so thin on the ground with staff, the players are effectively training each other, while scouting the opposition themselves.
Now we all remember (and continue to hide from) Freddy Danielson. We also remember Spurs goalkeeping legend Stipe Pletikosa. Would either of my former assistants join me in the south east of Norway? Nah. It was time to bring someone over with a familiar accent from back home that I instantly recognise.
My new assistant Gordon Young was born in Motherwell, less than half an hour away from where I grew up in the west of Scotland, and although his main experience is in Scottish football, he also managed a Latvian club, and was even assistant manager of the Latvian national team for a spell in 2018. This means that Gordo (his nickname already, we are getting on like a house on fire) is highly adaptable. He should acclimatise to his new Norwegian environment in days.
I even bring a staff member with me from Varbergs, the highly talented (20-rated) physio Filip Lundgårdh. He's already fluent in Norwegian and knows how I like to work, so this is an ideal capture.
After my staff recruitment haul, I am pleased to see that we are among the strongest (the strongest in some areas) in terms of staff in our division. This is a great advantage, especially given that we are in the top tier, and be up against some big names like Rosenborg and Molde.
Now onto the playing staff. On my arrival day I receive a recommendation of our best 11, but I'm not sure I exactly agree. I also receive a nice bit of news about our increased status in European football, something I wish I could take credit for, but I haven't even managed a game yet.
The players generally oppose me. Task number one is get them all onside (figuratively and literally), and get out of this relegation mire.
I start to recognise where some of the issues may have been. This club has been very, very unfortunate with injuries, for a start.
There's also not the highest number of players who were trained in Norway for the appropriate time to meet the registration rules, which are hurting my brain a little trying to ensure our squad fits the bill. I ask Gordo for his help, but he just grunts for fifty seconds then says "it's like being back with those bloody Latvians," under his breath. We move on.
The transfer window is currently closed (but not for long) and our first competitive fixture rolls along. It's the Cup Quarter Final. What an introduction to the Norwegian game. And what's more, it's against Vålerenga, the team just below us in the league who declined me for their managerial vacancy a matter of weeks before I took the Lillestrøm role. Was it payback time?
Oh yes it was! A fine strike by defender Brede Moe delivered me a debut victory against the most appropriate opponent fate could deliver us. Board expectations were to reach the Quarter Finals, so to push on to the Semis is a brilliant first step.
We followed it up with a 1-0 victory over Stabæk in a hard fought game, where my exquisitely named winger, Kristoffer Ødemarksbakken, bagged the only goal.
As the transfer window rolled around, two disappointing results in a row, 2-2 at Sarpsborg and a 2-0 away defeat to Brann burst our bubble, and put us back down to 15th, four points from safety. On a positive note though, that is also just five points off 7th. Anything could happen!
Now that the transfer window has opened, and with all that money burning a hole in my pocket, I was tempted to go out and make a marquee signing. Something that would really lift the mood around the place. Then I remembered one of my key objectives for my time here in Norway, to improve the managerial characteristics I've 'built' so far.
I think pragmatic thoughts, and approach the market with surgical precision, the only real problem is that the serious lack of homegrown players is becoming a real anvil on our back.
The first position I notice we need strengthening (homegrown players aside) is in the centre of midfield. We play with my now trademark triangle of three players in the middle of the park, and between injuries and other issues, we are light in that area. Who else could I possibly bring in, other than my loyal (and capable) former captain at Varbergs BoIS, Albert Ejupi?!
Ejupi was a solid captain for me in Sweden, not only performing well both at DM and CM, but also in leading and motivating the players around him. A relegation battle from the top tier is the same experience as a promotion battle from the division below , just with nicer training equipment, so he should love it!
My focus from the Ejupi deal onward, had to be in bringing in homegrown talent. These registration rules weren't going anywhere, and if we can move swiftly, I think we can beat some of our relegation rivals to the punch.
This was a common sense move. Viðar Ari Jónsson, 27, could play LB and RB, but wasn't homegrown. Off he went to ply his trade at Luton Town for £250,000.
Jeppe Arctander Moe, 25, can play LB and RB, is arguably better than Jónsson , is homegrown, and came in from Stabæk for £300,000. A good bit of business all round, I reckon.
Out went backup goalkeeper, Serbian prospect Aleksandar Stankovic for a lowly £8,000, and (not very good) Englishman Jamie Hopcutt for £100,000.
Unfortunate first team victims of the registration rules Daniel Gustavsson (Swedish winger) and Mathias Hebo (Danish midfielder) were still at the club, but surely on their way out during this window.
Coming the other way, I needed numbers, and I needed them fast.
Yes some of these arrivals were dutifully and properly scouted, but for some of them I adopted a sort of 'moneyball lite' approach, and looked at the homegrown players in the market who had completed the highest number of either key tackles or interceptions when hunting for defensive targets, or chances created or key passes for offensive players in my sights.
Along with Ejupi and Moe who I've already covered, these are the chaps who have arrived at the Åråsen with my blessing (see I can do the transfer market, I just needed the tools to do so!).
But wait…
BREAKING NEWS
Now this is a real spanner in the works. My star centre back Philip Slørdahl has been chased my Gladbach, Lazio and now Porto. I have managed to resist all of the bids that have come in so far, but the board have taken this out of my hands!
Slørdahl is my first choice centre-half who at 20, is not only one of my best players, but the brightest prospect we have.
An upfront £650,000 (then £550k in instalments), potentially rising to £3million is not enough for someone of his calibre. I protest intensely, but it is accepted regardless.
The biggest challenge now is replacing him with someone homegrown. The Norwegians aren't stacked with affordable, high quality superstars, unfortunately.
Anyway. Back to the signings that were already coming in before that madness was thrust upon me.
I missed out on my top striking target, Sigurd Grønli, also from Tromsø. He chose to scale the heady heights of playing in Belgium for Kortrijk instead. I had crazily bid £1million for him, perhaps blinded by his home-grown status, so missing out may have been a financial blessing in disguise.
The centre back who was supposed to replace Philip Slørdahl, a Molde outcast called Martin Ove Roseth, also snubbed me in favour of Belgium, but this time to Lokeren who aren't even in the top division! What's going on?
BREAKING NEWS – UPDATE
The board accept another bid for Slørdahl, this time from Leipzig, but for £3million up-front. This one I can't really argue with. We have £3.5million in the bank in total, so this would make a big difference to the club, from a business perspective. Bet he choses to go to Porto now. That would be just my luck.
In come Leverkusen, matching rivals Leipzig's £3million up front bid. Hopefully he chooses Germany over Portugal.
Our form tanks in spectacular fashion as players come and go. This early wobble is to be expected, but we need to arrest the slide quickly once the transfer window gets back in its box. 13 games to go, but it's not looking good right now.
In hardly breaking news, Slørdahl does indeed leave the club for Germany, but leaves us £3million richer in the process. That should really have improved my 'managing finances' characteristic instantly, no? (writer's note – are you mental? It's still at 16%, calm down). Of course, they instantly loan list him as they don't really need him, and reject my loan offer for him because they want me to pay £6,000 a week towards his new salary, and I won't/can't offer that. Typical.
This has admittedly being a massively long post. I know what will wake you up again, and it's not coffee.
Dan Gustavsson leaves for Sogndal for £115,000 and Mathias Hebo just won't leave. Even for Haugesund, who are currently sitting 2nd in our division, and he actively says he wants to join. Too picky about contract terms and he remains in my reserves.
There's a final piece of business to report; it's a loan deal, and it's a cracker.
It's only the £9.25million-rated Swedish international forward Viktor Gyökeres, who immediately takes the vacant number 7 jersey until the end of the season.
This could be the catalyst. The absolute game changer. We are 5 points behind 13th to get out of the relegation zone and have 12 league games and a cup Semi Final (and fingers crossed a final!) to go. In Viktor we trust. It's a thing now. #InViktorWeTrust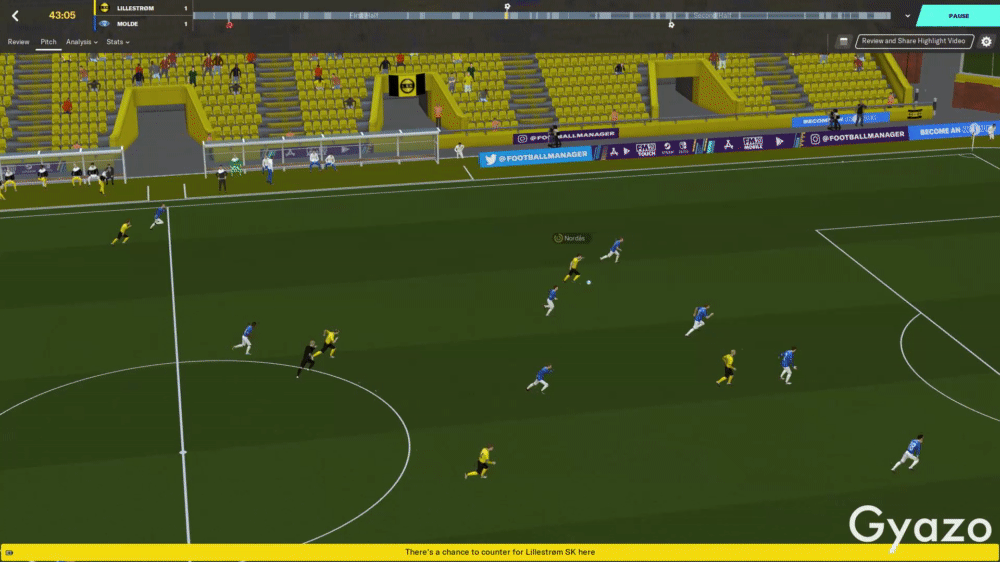 Thanks for reading.
#InViktorWeTrust

Tweet
FM Stag