This a number one champion sound
Remember Estelle? The London singer with the velvety voice who collaborated with Kanye West on the 2008 "banger" American Boy?
Me too. Sort of.
A quick Google (other search engines are available) tells me she later recorded some reggae and then starred in a Netflix film. Good for her. I didn't want her to vanish like fellow one-hit wonder Gotye, who is now just somebody that I used to know (woosh).
Anyway, the only reason Estelle is on my mind is because I wanted the first headline of this blog post to contain relevant lyrics (without using Queen – We are the Champions), referencing the fact that for the first time in their 103-year history, Tromsø are the champions of Norway!
Tenuous, I know. Sorry.
The business
After Robert Vonsen's first 7 matches in charge of Tromsø , which were the final 7 matches of last season, we barely escaped relegation, remember?
It was supposed to a bit of fun. A nice easing in to Norwegian football after conquering Romania.
It wasn't.
After the season ended, I had signed 7 new players before we kicked another competitive ball, and during the 2023 campaign we added a further 3 you haven't seen yet.
Einar is the second Icelandic newgen gem (newgem? nah?*) I've discovered and signed since moving to Norway, after the 16-year-old diamond that is Óliver Jónsson. 'OJ' has actually had his attributes drop a little since signing. I think I may have relied on him too heavily (28 appearances and 4 goals) and pushed him too hard, given that he isn't yet old enough to drive. Sometimes he does do stuff like the below though. It was voted Tromsø's #gifgoal of the season…
*NO.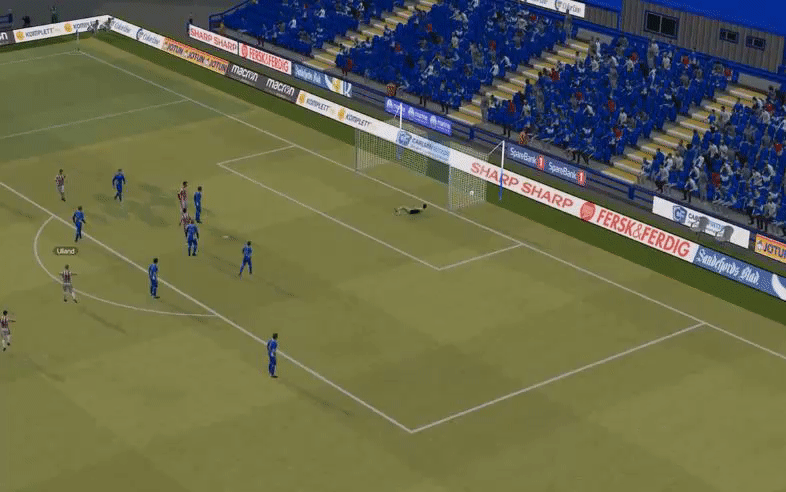 The screenshot of the three new players above the golazo gif will be useful if you want to look at their lovely faces and attribute profiles while I wax lyrical about them below…
Einar Pétursson is the perfect screen in front of our backline. He is physically and mentally very well-rounded for a player who is still a teenager. His defensive technical attributes aren't bad either, and will grow in time. His average rating of 7.02 from 13 appearances shows that I bought him for his current qualities alongside his undoubted potential.
Omar Zeregaber is a typical poacher. At 17-years old I am excited to see how he develops. Already a great finisher, hard worker with good movement and composure, he has the makings of a prolific goal-scorer. After seeing the negative impacts of throwing a player so young into week in-week out professional football in OJ, I have used Omar a little more sparingly so far. A mentoring group with him in it is actually working well. Something I haven't been able to say at all before now, during FM21.
Bryan Fiabema, now 20, is a Tromsø product, through and through. Born and raised in the area, Fiabema joined Chelsea (in real life) in 2020, and managed 3 league goals in 7 games across 3 years for the London giants (in-game). It was a surprise when Thomas Tuchel let his contract run down, and an even bigger surprise when I managed to convince the tricky forward to come home to Norway on a free transfer, especially when Milan were sniffing around him towards the end of his deal. He repaid my persistent scouting and press comments by smashing in 15 goals in 17 games, along with 6 assists and 7 man of the match awards.
We pivoted from the flat and extremely direct 4-4-2 I had planned to use this year to a narrow diamond with a number 10 behind a strike pairing (more on this in a minute), so at first I was torn between using Fiabema as a fantasista in the hole, or as a proper striker, perhaps in a roaming Trequartista role. I opted for the latter as despite his various qualities, his lack of passing ability and vision nudged me away from playmaker and towards proper attacker.
The new system
So precisely as I said above, we pivoted to a 4-4-2 diamond. This was for a couple of reasons. The main ones were Einar Pétursson and Sigurd Grønli. Sure I could pair them as central midfielders, but to do so would rob both of them of their key abilities, asking them to do midfield donkey work they aren't best equipped to do. Pétursson is an effective defensive screen, Grønli is a diminutive playmaker. Simple.
They therefore had to play as a 5 and a 10 (if you consider your numbers in the proper, Argentina-influenced way. Even if I've ruined that by giving OJ the 5 shirt and moving him up to CM after Einar joined.)
As I hinted, Bryan Fiabema suits the Trequartista role. It's not one I tend to use often, especially not in a striking berth. Fiabema's physical prowess plus his decent dribbling and penchant for the unpredictable (flair 17) suits the role. Sure his off the ball movement (11) and vision (9) should ideally be higher, but he's only 20, give the guy a f*cking break.
15 goals in 17 games shows my faith was well-placed. Much like most of his finishes (woosh again).
His strike partner Markus Eiane regularly switched between Target Man on Support and the Poacher role this year. Ideally I want him on the end of chances (he is our best finisher on paper and scored 25 times). With a roaming Treq beside him, I need someone to spearhead the attack, hence Poacher.
That being said, sometimes in games where I was evidently losing the battle in midfield, switching him to the Target Man role 1) saw him drop a little deeper to support the midfield, and 2) gave me the option to look for the long ball due to his aerial strength, bypassing the congested midfield completely.
In other news, midfield man Eirik Ulland Andersen, who I had earlier signed on a free from Molde won the Norwegian Players' Premier Division Player of the Year. 8 goals scored and 13 assists from midfield in 25 appearances, averaging 7.59 in match ratings. Rejoice.
Goalkeeper Jacob Karlstrøm (aerial reach and jumping both 20) also pulled out this God-tier double save to prevent disaster. He did stuff like this regularly.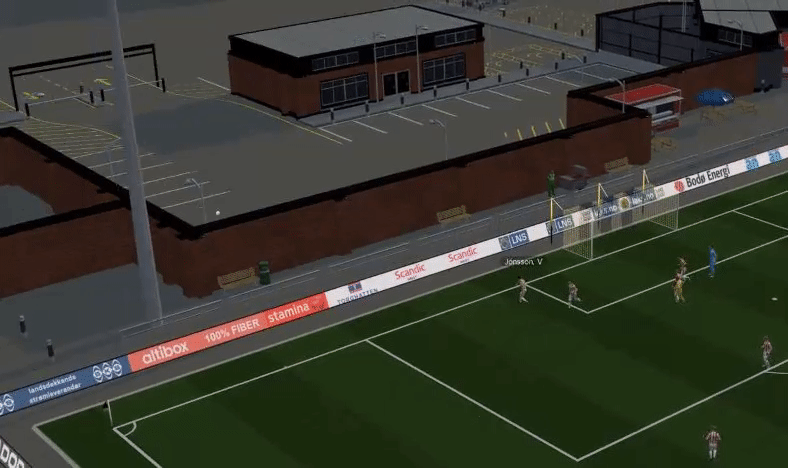 I (Robert Vonsen) also won manager of the year.
Results
We won our first 16 games in a row, and it wasn't until matchday 22 that we lost a league match, a drab 1-0 defeat against Lillestrøm. It was sandwiched among a run of painful draws that I thought would never end. I started to worry that Cyberpunk 2077 was going to be bug-free before we won again.
The other two defeats (including a 5-1 mauling from Ed's former employers Bodø/Glimt) were immediately after we mathematically sealed the title. Players still drunk, I imagine.
Although I chopped and changed the tactic between the route one flat 4-4-2 and the narrow short-passing diamond, we ultimately won the league due to the volume of attacks we attempted, and the solid conversion rate of our forwards.
Bodø/Glimt were also responsible for dumping us out of the Norwegian Cup at the Quarter Final stage, but I can live with that. Bloody Patrick Berg. I'd buy him if I could afford to. Just to deprive Bodø from playing the talented bastard against me.
Second last but not least, here is an Excel table showing that attackers did attacking things, and defenders did defending. All outfield players did a combination of both. I hope you really like it.
Last but possibly least, here is a visualisation of what those numbers mean in dot form. I hope you really like this one too.
What's next?
As we know, the goal here is onwards and upwards. That being said, Robert Vonsen finally nabbed the Continental B Licence this year, and started working on the Continental A. It will be complete in July 2024, then it's just the Pro to go.
Manager reputation has risen to 55% / 'Fairly Good,' and the statistics make for a nice read after a couple of titles in Romania and one in Norway.
One thing is for sure, the German is still devilishly handsome.
Outside of fringe striker Shuaibu Ibrahim leaving for Liberec on a free, there is no business lined up for the off-season, and no key Tromsø players out of contract.
That said, every manager likes to freshen up his squad between campaigns, and I am no different. Since the season in Norway follows the calendar year, expiring stars from other European leagues won't be available until the summer, but I may be able to nab some Norwegian bodies from the teams around me.
Board expectations are to finish in the top half next season. Even if our title win was a stroke of good luck, I have faith we'll have enough in the tank to do at least that, without extensive strengthening.
If we can get to the UEFA Champions League group stage it would be mind-blowing, but I am not getting my hopes up. The qualification draw is still be made, but getting through it will be a steep mountain to climb.
As I mentioned right at the start of this journey, there are only certain leagues loaded. The most prestigious of which is the top tier in either Ukraine or Austria. Shakhtar Donetsk would be a lovely end goal to be in charge of, but Red Bull Salzburg is the job I am eyeing from afar.
Jesse Marsch has been in charge since 2019 and they've just won their 10th Austrian title in a row, but there's always a chance.
Above Norway in the reputation table are also the top tiers in Croatia, Greece, Czech Republic and Denmark, so there is definite room for more twist and turns before I call it a day for this "journeyman" (groan).
In the meantime, Tromsø have a title to defend!
For no reason other than to reward the beautiful people who like to interact on my Slack channel, here is a tiny no-context Anne Hathaway gif, before the usual season review gallery.
End of season (3) review
Thanks for reading.
FM Stag